Your partner for tunnel construction and operation
Sixense is uniquely positioned to offer a variety of monitoring, noise and vibration consultancy, mapping and geophysical survey services for tunnelling projects.
Discover our solutions and achievements on a range of tunnel projects; whether pedestrian, road, rail or metro and in urban or non-urban environments.
We have a broad range of experience on sites with adjacent heritage properties construction techniques and materials as well as modern cut & cover and bored tunnels.
Sixense solutions for tunnels
We bring a spectrum of expertise to all phases of a tunnel's life cycle: desk studies, design, construction, operation and maintenance.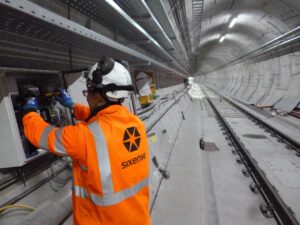 Monitoring
Sixense design, supply, install, operate and maintain structural and geotechnical monitoring systems either during the construction of new tunnels, or for projects adjacent to existing live tunnels.
We provide monitoring solutions to detect and measure structural deformation, behaviour of geotechnical strata and environmental issues (noise, vibration & air quality).
We are able to provide a wide range of monitoring techniques, from traditional manual survey and automated instrumentation, to large scale precision measurements using satellite interferometry.
Geophysics & soil characterisation
Sixense can undertake ground-based geophysical investigations to detect voids, anomalies, faults or obstacles.
Our experts hold the largest number of AGAP quality approvals in the profession (www.agapqualite.org), providing our clients with assurance regarding the sophistication and effectiveness of the methods we use and the quality and reliability of the services we provide.
We are also able to provide unique solutions such as our Sissterra system, the latest in void detection technology using passive seismic methods.
Environmental engineering
Our engineers can model, predict and assess key environmental parameters during construction activities (excavation, tunnel boring, blasting etc.) as well as those generated from ongoing post-construction operations (e.g. vehicle or rail traffic) and advise on mitigation measures to maintain compliance.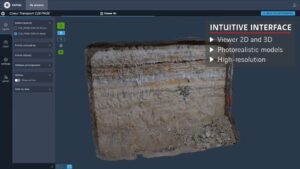 Digitalisation & modelling
We can provide mapping and 3D modelling to bring dimensional information and precise knowledge of construction sites and live structures. Our latest PIKA photogrammetry system brings improvements and efficiency to the logging of tunnel faces.
Tests on concrete structures & laboratory tests
Sixense can assess the condition of tunnel linings. Data is collected using non-destructive or destructive methods. Samples collected on site are sent to Sixense laboratories to analyse the mechanical, physical or chemical properties of the materials as well as concrete pathology.