Project summary
Service provided:
Structrural monitoring of critical water supply
Period of the service:
2009
Duration of service:
8 Months
A critical structure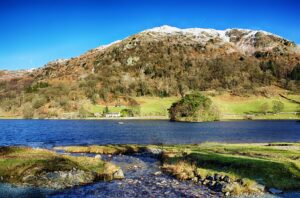 Nab Scar is a fell that stands above Rydal Water, in the middle of the Lake District National Park. Twenty percent of Manchester's drinking water is routed through a conduit located under Nab Scar which was known to be unstable.
Comprehensive monitoring
In 2009, extensive remedial works started. A broad range of monitoring techniques implemented by Sixense ensured the stability of the structure during the works, preventing any damage to the water main, and determined the success of the operation after works were completed.
To provide surface monitoring characteristics along the scree slope, our Cyclops system was used together with a 5 m grid of monitoring prisms.
To determine vertical deformations of the conduit, horizontal In-Place Inclinometers (IPIs) were installed within the conduit. Vertical deformation of the slope was obtained using IPI strings installed within
boreholes drilled directly into the hillside. Induced vibration were considered to be a potential problem during the remedial works, therefore, portable geophones were used around the conduit.
The data was acquired, stored and managed by a datalogging solution on site which imported the information into Sixense's Geoscope software. Geoscope was also accessible to the client, providing them real time access to the data as well as the ability to run fully customisable reports, as required.